New Delhi – BEST PLACE FOR TOURIST
In today's time, everyone goes to many different countries for tourism. And so in this list, we will share with you all the information related to tourism. Also about all the states of India. Therefore, in this article, we will learn about the Indian Capital state of New Delhi.
Located in the city of Delhi and the National Capital Region, north-central India. The city of Delhi actually has two components. Old Delhi, to the north, is also a historic city. And New Delhi, to the south, since 1947. The capital of India was built in the first half of the 20th century as the capital of British India.
Which is very different from each other. And it is also very beautiful and surprising. In this article, we will learn about all the major tourist places of Delhi. Where all tourists must go.
In Delhi itself, you get the largest airport in India. From where you can easily get a flight to go to other states of India. And also to go abroad. As well as about 4 train oriented stations in Delhi. If a tourist wants to travel by train. Then tourists can also travel to different parts of India with the help of trains.
To travel in Delhi itself, you can travel to Delhi Metro. And Delhi's bus service is also available and many more means are available. And there is also a lot of online company. You can book online taxis or cabs by installing applications on your phone like Uber Taxi and Ola Taxi.
Now know about the major tourist destination of Delhi
NEW DELHI – BEST PLACE FOR TOURIST
#1. Rashtrapati Bhavan
Rashtrapati Bhavan was designed by Edwin Lutyens. There is a famous monument of Delhi. Which we know as Rashtrapati Bhavan. In which the then Viceroy of India used to live.
And now the President of India lives. Construction of this building started in 1911 and it took almost 19 years to complete. The Mughal Gardens in the western part of this building are quite famous, which is opened to the common people every year during the spring season.
#2. Red Fort
Red Fort of Delhi made of red stone. Due to the combination of Parsi, European, and Indian architecture. Very unique in itself. This fort was built by Shah Jahan in 1638. Which took 10 years to be made.
#3. India Gate
India Gate located in Rajpath New Delhi. Made in memory of Indian soldiers killed in World War I and the Afghan War. And the names of those martyrs are inscribed on this building. And it took 10 years to build this 42-meter high gate.
#4. Old Fort
Old Fort is a rectangular fort. There is a small archaeological museum inside its main door. A sound and light show is also held here every evening. And along with this is Delhi's zoo next to it and many historical buildings are also seen in this area.
> Mount Everest – Highest Mountain Peak In The World
#5. Rajghat
Located in New Delhi Rajghat is a sacred place located on the western bank of the Yamuna River. Where there is a memorial to Mahatma Gandhi, the Father of the Nation. Two words written on it. – 'Hey Ram' was the last two words spoken by Mahatma Gandhi.
The atmosphere here is very peaceful. Two museums located near this monument have been dedicated to Mahatma Gandhi.
#6. JAMA Masjid
There is a major mosque located in Old Delhi. Jama Masjid is one of the largest mosques in the country. And among the many buildings built by Shah Jahan, the last one is Alishan Bhawan. Its construction began in 1644. And in 1658 it became a mosque. This mosque made of red stone and marble has three grand doors.
#7. Akshardham Temple
Swaminarayan Akshardham Temple is located in Delhi. Which is a symbol of 10,000 years old Indian culture. Presents very awe-inspiring, beautiful, intelligent and pleasant.
It brilliantly showcases elements of Indian craftsmanship, traditions and ancient spiritual messages. Akshardham is such an enlightening journey experience. Which describes India's magnificent art, values ​​and contribution to the progress, happiness and harmony of humanity.
And it is one of the largest temple. Its beauty is really special and it also comes in the list of big temples of the world.
#8. Lotus Temple
Located in New Delhi The Bahai Temple is also called the Lotus Temple due to its shape like the Lotus Temple flower. It was designed by Iranian-Canadian architect Faribuk Sahaba in 1986. It has 27 white-colored petals, whose beauty makes this temple one of the major attractions of Delhi.
#10. Qutub Minar
Qutub Minar is the tallest tower in the world, built of brick in Mehrauli, Delhi city of India. It is the most special and famous tourist destination of India. This building is a very special part of Hindu-Mughal history.
Qutub Minar has also been included in the list of India's oldest global heritage by UNESCO. Qutub Minar is the largest brick wall in the world with a height of 72.5 meters.
#11. Bangla Sahib Gurudwara
Bangla Sahib Gurdwara is near Connaught Place, one of the busiest areas of Delhi. Thousands of people come here every day to visit. This has made it popular as a pilgrimage center. It is not that not only Sikhs come here. But people of different religions and sects also come to visit this holy place.
#12. Delhi Haat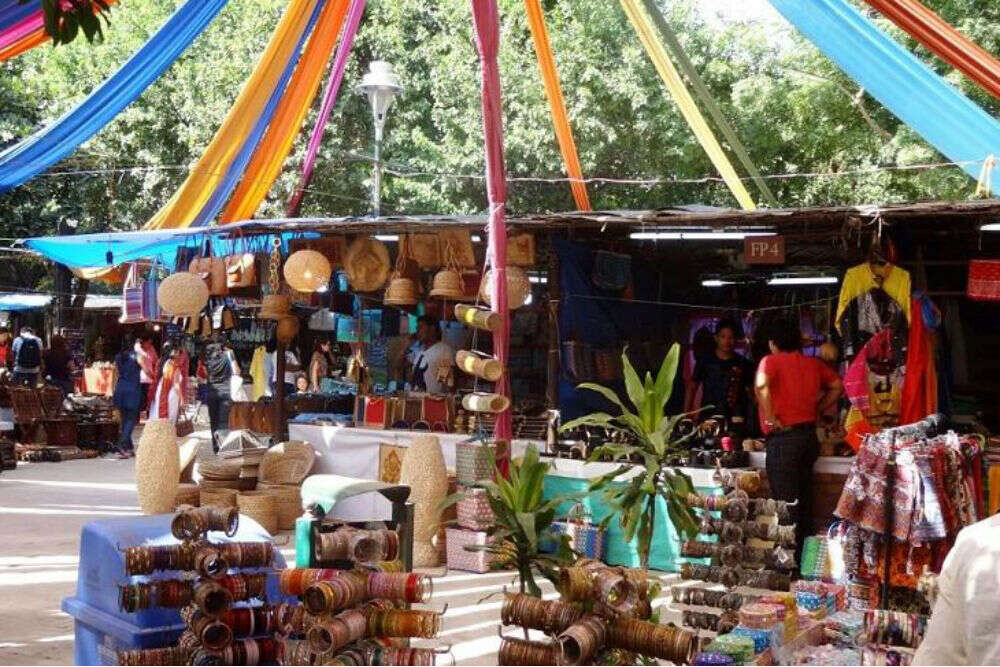 A mix of catering, handicrafts and cultural activities is visible in this traditional market. And all the modern things needed are also found here. A unique glimpse of Indian culture can be seen in this market
#13. Chandni Chowk
It is one of the busiest and oldest markets in Delhi. Chandni Chowk, which is no less important than any tourist destination in Delhi. This market is spread in the old city, from the Red Fort to the Jama Masjid.
And it is very famous for its delicious food of old Delhi. And it is one of the most crowded areas where tourists always come.
Other's Popular Markets in New Delhi
Khan Market – This market is one of the best market in the world
Karol Bagh Market – This is a very good market for cosmetics and electric related shopping.
Lajpat Rai Market – This is an electronic market
Paharganj Market – is very famous for its market and hotel.
Are you excited to visit New Delhi? In this list we are making a mini-guide which contains all the details about the places in Delhi.
Red Fort – Pride Of Mughal Dynasty
India Gate – India's Largest War Memorial
Rashtrapati Bhawan – Presidential Palace
Qutub Minar – Majestic Stone Structure
Jantar Mantar – World's Largest Sundial
Humayun's Tomb – The Garden Of Tombs
Akshardham Temple – Experience A Holy Visit
Chattarpur Temple – Awe-Inspiring Complex
ISKCON Temple – Seek Blessings
Lotus Temple – Experience The God
Jama Masjid – India's Largest Mosques
Purana Quila – Old Fort
Bangla Sahib Gurudwara – Offer Prayers
Raj Ghat – Take A Stroll
Hauz Khas Fort New Delhi – Take Scenic Shots
Agrasen Ki Baoli – Take In The Beauty
Nehru Park – Picnic
Crafts Museum – Explore Traditional Crafts
National Rail Museum – Buy A Souvenir
Shankar's International Dolls Museum – Family Friendly Trip
Chandni Chowk – Eat Street Food
Palika Bazaar And Janpath Market – Shopping place
Sarojini Nagar Market – Shopping And Eating
Select Citywalk – Window Shopping
Dilli Haat – Buy Textiles
National Museum – Take In The History
The Educational National Gallery Of Modern Art – Check Out Art
Lodhi Gardens – Heritage Amidst Nature
Garden Of Five Senses – Adventure Park
Khan Market – Shop
Karol Bagh Market – Buy Cosmetics
Tamra Shangri La's – Eat Local Food
Lajpat Market – Shop For Knick Knacks
Kunzum Travel Cafe – Sip On Coffee
Paharganj – Market place and Hotels
Khan Chacha – Visit For Delicious Chicken
Laxminarayan Temple – Pray
Tomb Of Safdarjung – Experience History
Feroz Shah Kotla Fort – Experience The Charm
Pragati Maidan – Visit Historical Monuments
Nizamuddin Dargah – Pray
Nehru Planetarium – Take A Tour
Okhla Bird Sanctuary – Bird watching place
India Habitat Center – Witness The Architecture
Indian War Memorial Museum – Satisfy The Patriotic In You
Barakhamba Tomb – Mughal Era Structures
Art Today – Witness The Urban Artworks
Sacred Heart Cathedral Church – Seek Blessings
Moth Ki Masjid – Spectate The Structure
Tibet House Museum – Soak In The Holiness
Hijron Ka Khanqah – Get A Cultural Insight
Mehrauli Archaeological Park – Home To Timeless Ruins
Atgah Khan's Tomb – Offbeat Monument
North Campus – Dining restaurants and education hub
South Campus – Eat Local Snacks
Pandara Road – Take A Stroll
Connaught Place – Shopping complex, Dining restaurants and Hotels 
Paranthe Wali Gali – A delicious Indian food
Kingdom Of Dreams – Watch A Show
Indian Air Force Museum – Step Back In Time