HOLI – Festival Of Colors And Happiness
Holi is a festival of colors, which is made from happiness. In which everyone from children to old people joins and celebrate this day with great pomp and joy together. This holy festival of Holi is also called the festival of happiness. There is no other country in the entire world like India. Where people get together and enjoy all the festivals without any discrimination with brotherly fodder.
Now, foreigners also come to India to celebrate this Holi festival. Holi celebrated in Mathura and Vrindavan of India attracts the whole world.
Is Holi an ancient festival?
Holi is one of the ancient Hindu festivals in India. And this festival is being celebrated many centuries before the birth of Jesus Christ. Holi is also mentioned in Jaimini's predecessor Sutra and Kathak Grahaya Sutra. Holi sculptures have also been found on the walls of temples of ancient India.
One such proof is a 16th-century temple in Hampi, the capital of Vijayanagar. There are many scenes related to the Holi festival in this temple. In which the prince, princess, and their slaves are coloring each other.
How do we observe the Holi festival?
This festival is celebrated for 2 days in India.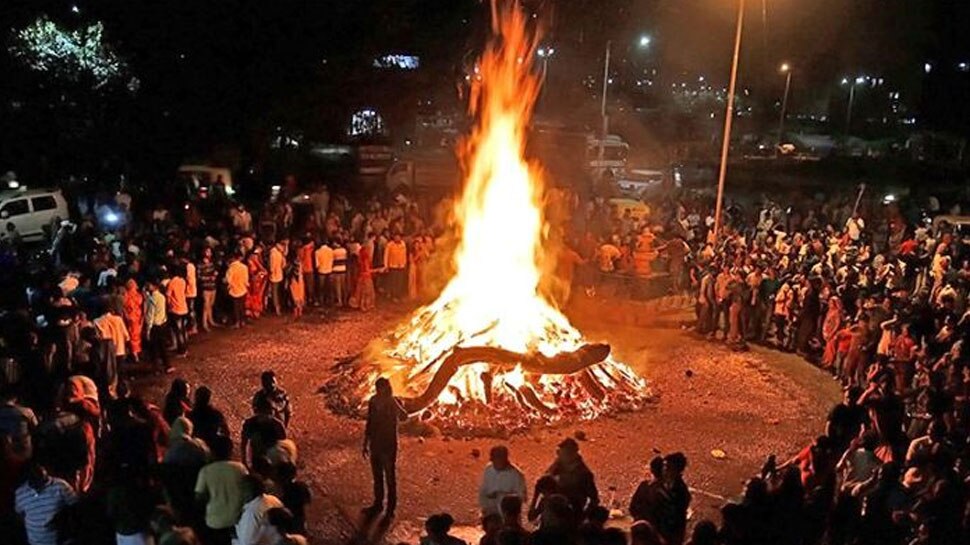 Day 1 – On this day, burn the picture of Holika. And Holi is lit in memory of Holika and Prahlada. The mother takes five rounds of the burning Holi with her children for the blessings of the fire god. This day has its own different beliefs. And in many parts of India, Holika Dahan is done only after wearing new clothes on this day.
Day 2 – This holy day is called 'Parva'. And it is the last day of the Holi festival. On this day everyone embraces each other and then celebrates this festival by putting color and water on each other. On this day, the idols of Lord Krishna and Radha are also worshiped by putting color on them. And at the same time, on the occasion of this festival, different types of dishes are prepared in homes on this day. Which is very tasty in food.
> KARVACHAUTH – Fasting For Long Husband's Age
How to celebrate Holi properly
Earlier colors of Holi were made from natural things. Like with flowers and they were called Gulal. That color was very good for our skin. Because no chemical was added to it. But today, in the name of colors, powders made of chemicals are sold in shops.
Which is harmful to the health of all of us, by destroying the children. These chemical dyes are available at low prices. And the natural color from which one should actually use on the day of Holi is slightly higher. That's why people buy low-cost colors. Unaware of how dangerous that color is for them.
History of This festival
1. Social recognition
Holi is a spring festival, and upon its arrival winter is over. And in some parts of India, this festival is also related to the spring harvest. Farmers believe in Holi in the hope of producing a good crop. Holi is also called Spring Festival or Kama Mahotsav.
On this day, people forget each other's bitterness and envy and color each other in such a way that people do not even recognize their faces. After the color, humans start to resemble the Ganesha of Shiva, on which Bholeshankar is pleased.
Also, Read It:- DIWALI FESTIVAL OF INDIA
2. The slaughter of Hiranyakashipu by Lord Narsingh.
In ancient times, there was an extremely powerful asura named Hiranyakashipu. He started believing himself as a god in his strength. He wanted everyone to worship him like a god.
And then son Prahlada refused to obey his father Hiranyakashyap's order and refused to worship his father. And instead, Prahlada started worshiping Lord Vishnu.
When Hiranyakashyap came to know about this, he got angry. Hiranyakashyap gave many punishments to his son Prahlada. And then son Prahlada was not impressed. And then Hiranyakashyap and his sister Holika came together to form a plan. That she will sit on the pyre with son Prahlada. But still the son Prahlada did not leave the path of devotion to God. Hiranyakashipu's sister Holika had a boon that she could not be consumed in the fire.
Hiranyakashipu ordered that Holika sit in the fire with Prahlad on his lap. Holika got burnt while sitting in the fire, but Prahlad survived. Holi is lit on this day in memory of the devotee Prahlada. Symbolically it is also believed that Prahlada means joy. The Holika (burning wood) symbol of hatred and oppression burns and Prahlad (bliss), a symbol of love and joy, remains intact.